Suicide Prevention Strategy Development
The Scottish Government and the Convention of Scottish Local Authorities (COSLA) will publish a new Suicide Prevention Strategy and Action Plan for Scotland, in September 2022.
This strategy will be long term and outcomes focused and will replace the current Suicide Prevention Action Plan which was published in 2018 and is currently delivered through the National Suicide Prevention Leadership Group (NSPLG).
Our vision is for Scotland to be a place where suicide is preventable and prevented, and where help and support is available to anyone feeling suicidal, and to those who have lost a loved one.
Our Approach to the Development of the Strategy
We are taking a multi-stage approach to engagement throughout the key stages of the strategy development to ensure stakeholders, partners, communities and people with lived experience of suicide, have their views heard in a meaningful way - and critically, to inform each stage of the strategy's development.
This iterative engagement approach will ensure that people's voices are heard and that these groups are co-developing the vision, aims and outcomes of the strategy and the focus of the action plan.
Throughout engagement we are also considering established international evidence on suicide prevention, such as guidance from the World Health Organisation.
Phase One Engagement
To date, we have carried out extensive early engagement with key stakeholders, partners, groups and communities across Scotland since September 2021. The participation levels have been extremely high.
Between 29 September and 17 November we held 41 online engagement events and 684 people, as individuals or from a wide range of organisations registered to attend. Events were facilitated by the Scottish Government, COSLA and Public Health Scotland (PHS), and the insight from people across Scotland (and beyond) has been invaluable.
In parallel with online engagement events we also invited people to provide their views on what should be included in the next suicide prevention strategy via an online questionnaire which was open from 27 September 2021 to 7 January 2022. We received 189 responses to the online questionnaire, from individuals and organisations.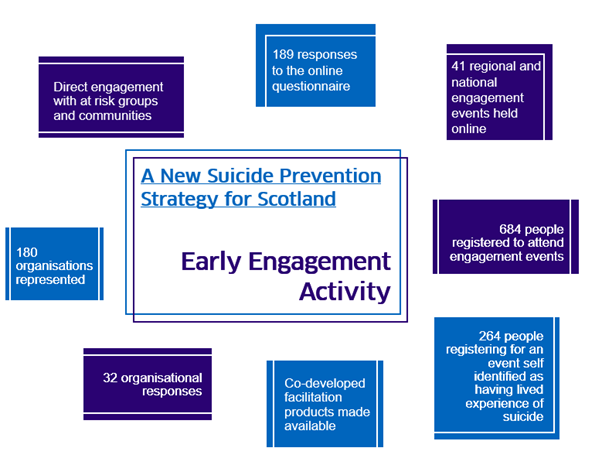 In addition to the above activity, specific targeted engagement was undertaken to hear from groups and communities where evidence suggests there is a higher risk of suicide and from those who may not usually engage in this type of process.
Next Steps - Phase 2
All the information gathered through the events and online questionnaire has now been analysed and a number of themes have been identified.
We are currently considering these themes and are starting to speak to stakeholders who have expertise in these areas to identify where actions can be taken to address the issues raised.
Key Themes from Early Engagement
We asked people about their views on six key themes; Prevention, Early Intervention, Crisis Intervention, Postvention, Tackling Stigma, Raising Awareness and Building Capacity.
The analysis has shown that within these themes there were overarching areas that were common and should be considered further. This included:
Training – to be widely available to all, and not just aimed at professionals.
Campaigns – should be targeted nationally and locally
Language – identified as a barrier to reducing stigma
Lived experience – crucial to continue to involve and listen to those with lived experience
Focus on schools – the need to instil skills in children and young people they can build and develop throughout life.
Strategic Support – ensuring adequate funding and resources available to underpin delivery.
This is only a snapshot of the information gathered and the full report will be published on the Scottish Government website soon. A link to that document will be provided here when the document is live.
Looking Ahead – Phase Three and Beyond
Following discussions and identification of potential actions, we will undertake another period of engagement with the public which will seek views on a draft of documents and the actions described.
More information on how to get involved and share your views will be available in Spring 2022.
After this period of engagement we will analyse feedback and undertake further drafting before publication in September 2022.