news
The COSLA Excellence Awards are back for 2023
From the COSLA President, Councillor Shona Morrison.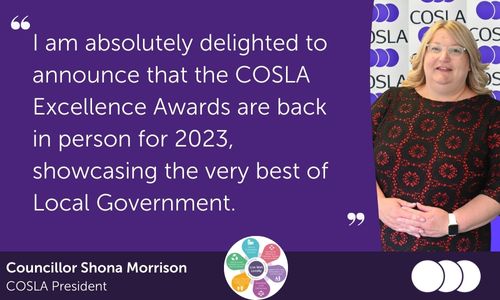 The COSLA Excellence Awards are about recognising the great work, talent and innovation across our councils and the exceptional people who deliver for our communities every day of the year.
The COSLA Excellence Awards 2023 will take place on Thursday, 28 September 2023 in the Crieff Hydro Hotel as part of the COSLA Annual Conference.
Timeline
Applications will open on Monday 3rd April 2023
Application deadline for entries will be Wednesday 31st May 2023
Judging, led by a team from COSLA, SOLACE, The Improvement Service and Local Government Professional Associations, will take place over the summer, shortlisting to a final three in each category.
Finalists, will be invited to present to an adjudication panel at COSLA's offices in Edinburgh on either Wednesday 23rd or Thursday 24th August
All finalist teams will be invited to the awards ceremony on Thursday, 28 September 2023 at Crieff Hydro Hotel, Perthshire where the winners will be announced.

The categories for this year's event are:
Category 1: Service Innovation and Improvement
Category 2: Achieving Better Outcomes for the Most Vulnerable in Partnership
Category 3: Tackling Inequalities and Improving Health and Wellbeing
Category 4: Strengthening Communities and Local Democracy
Category 5: Just Transition to a Net Zero Economy

Submitting Your Application Form
The deadline for submission of entries will be by COSLA application form at 5.00pm on Wednesday 31st May 2023.
I very much look forward to seeing the talent and innovation that is out there.
Shona Morrison
COSLA President.