Elected Members Briefing - 21st December
Finance
COSLA's Resources Spokesperson, Councillor Gail Macgregor, has her second Budget engagement meeting with the Cabinet Secretary for Finance tomorrow (Tuesday, December 22). The focus of their discussion will be on public sector pay policy for 2021-22 and on appropriate financial support for Local Government to administer Scottish Government's recently announced business support schemes. Councillor Macgregor will also take the opportunity to re-iterate COSLA's position in relation to the Council Tax. More meetings are planned with the Cabinet Secretary in January, in the run up to the Scottish Budget on the 28th.

In relation to recently announced business support, an established Local Government Project Group is working with Scottish Government on the details for each of the schemes, including eligibility criteria, value of grants, application process and, critically for businesses, timescale for schemes to go live - discussions are ongoing between officials and Ministers to finalise details. The Project Group is working towards having a definitive list of the grants which Local Government will deliver, with eligibility criteria, timescales and funding allocations to Councils clarified as quickly as possible in 2021.

An additional £65m has been agreed by the Cabinet Secretary for Health and Sport for Health and Social Care Partnerships for the following - to continue sustainability payments to social care providers, to address staff movement restrictions over winter, and to support the additional administrative burden in care homes due to COVID. This funding is part of the £112m announced by Scottish Government for its Winter Plan. The £65m allocation will be made In December and will allow the continuation of support payment to the care sector.

UK Exit from EU
The UK-EU Exit Transition Period ends on December 31.

As we approach that date, the outcome of negotiations around the future UK-EU relationship still remain uncertain. However, the UK will either:

* enter into a Free Trade Agreement (FTA) with the EU; or
* leave with no trade deal and trade with the EU on World Trade Organisation (WTO) terms.

The current assumption remains that the UK will be leaving the Single Market and Customs Union and the free movement of people between EU and UK will end. The significant regulatory and economic changes will then come into play. The scope of a FTA, if agreed, is likely to be limited and means that for most things the same preparation is required whether an agreement is reached or not. There are very likely to be short and long-term implications for council staff, funding streams and the legal and regulatory frameworks.

The EU transition may have implications on local economies, particularly in conjunction with the ongoing impact of COVID. There remains continued uncertainty around funding streams previously available through the EU and the new opportunities potentially available for further devolution of powers. There are likely to be changes that will shape communities for years to come, and local authorities have a role in fostering the social cohesion and providing the leadership necessary for communities to live, work and thrive outside the EU.

1 January 2021 – What Is Changing?
Key Reference Points
Both UK and Scottish Governments are currently making every effort to keep their websites up to date with information helpful to business and communities.

You may want to promote locally the following links - gov.uk/transition and prepareforbrexit.scot.
No Deal Protocols
During 2020, the UK Government and the European Commission have been updating their guidance on what happens should there be no trade deal.

Tariffs
The UK has announced new tariff schedules that will come into force in January. These UK Global Tariffs will apply to countries with which the UK does not have a trade agreement with. This could include the EU if there is no deal.

These are significantly different to the previous draft tariff schedules announced in 2019 and will have implications for exporters and importers in your area.
Immigration
Further details around the new points-based immigration regime have been released. The new thresholds represent a reduction on previous versions which should help businesses looking to recruit foreign talent. This regime will impact on suppliers and employers within your area.

Border Operating Policy
The UK Government has released details on how the border with the EU will work after the end of transition. The changes will be phased in during the first six months of 2021. Full implementation will begin in July.

The full UK 2025 Border Strategy sets out how the UK will develop the border over the coming years. In the new year, there will be engagement with industry partners to begin detailed design work underpinning elements of the Strategy and development of a detailed delivery roadmap. More information is available here.

COSLA
COSLA will continue to engage at senior political and official levels with both Scottish and UK Governments on a range of EU exit matters. Further updates will be provided to councils as and when available.

Business Gateway
Business Gateway has a range of support to help get businesses ready for the EU Exit.

It has also developed a new podcast to help businesses prepare for leaving the EU.

You can sign up for the Business Gateway newsletter here.

Scotland's Climate Assembly
Councillor Heddle, COSLA's Spokesperson for Environment and Economy, addressed Scotland's Climate Assembly on December 12.

He spoke about the important work by Councils in meeting Scotland's ambitious carbon reduction targets and highlighted Councils' important role as political leaders in creating net zero places, and to do so in a socially fair and equitable way.

Commenting on the Climate Change Plan Update, Councillor Heddle said: "Climate change is clearly one of the biggest challenges we face. In COSLA we have set a strategic goal for 'a just transition to net-zero by no later than 2045'.

"Local Government has made clear commitments to net zero and integrating carbon reduction into every aspect of what we do, along with a clear focus on biodiversity and integrating nature-based solutions.

"Local Government is not just about the delivery of vital services, but it is about the places we live and the lives we lead.

"We are now at a crossroads, and we must decide what type of world we want to build, as a response to climate change and coming out of the COVID pandemic. The linkage between the environment, human health and wellbeing, and the economy has rarely been clearer."

You can watch Councillor Heddle's address here:


National Transport Strategy
The first annual Delivery Plan for Scotland's National Transport Strategy (NTS2) was published this week. The Plan sets out the actions being taken across the Scottish Government to achieve the Strategy's vision, priorities and outcomes out to end-March 2022, taking account of the impact of COVID-19.

Commenting on the NTS2 Delivery plan, COSLA Environment and Economy Board Spokesperson and COSLA representative on the NTS2 Delivery Board, Cllr Steven Heddle, said:

"The publication of the first National Transport Strategy (NTS2) Delivery Plan comes at a time full of many uncertainties for the transport system and Local Authorities, including Covid-19, EU Exit, as well as next year's Local Government settlement.

"COSLA shares the NTS2 vision of a low-carbon, resilient and sustainable Scotland with less cars on the road, viable public transport and a strong focus on active travel.

"Collaboration at a national, local and regional level will be critical to achieve our shared ambitions through challenging times ahead, as well as flexibility, empowerment and adequate resources for Local Government to unlock its full potential in our collective journey to net-zero by 2045."

National Digital Strategy Consultation
The final of four workshops that COSLA, the Local Government Digital Office and the Improvement Service have been running in relation to the refresh of Scotland's digital strategy was held last Thursday.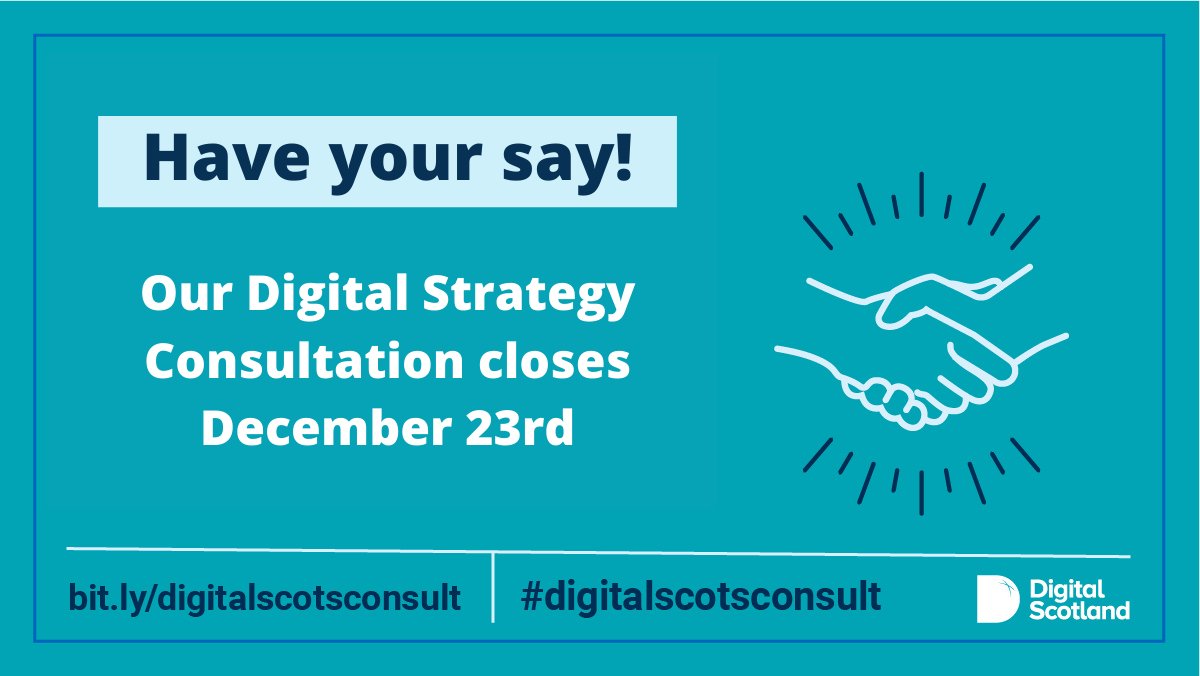 This is a final reminder that the consultation closes on Wednesday (December 23) at midnight but there is still time to respond directly here.

Test & Protect App
The free Protect Scotland App from NHS Scotland's Test and Protect is available to download on protect.scot and via the App Store and Google Play.

The App has been designed to help keep Scotland safe from COVID-19 and since its launch in September, it has had 1.7 million downloads.

It is now also available to secondary school children and anyone aged over 12.
For more information, click on the Frequently Asked Questions at Protect Scotland

Business Gateway
Business Gateway recently organised another in their series of national panel webinars. On this occasion we were joined by the Cabinet Secretary for Economy, Fair Work and Culture, Ms Fiona Hyslop, to talk about building Scotland's economic recovery post COVID-19, how businesses have adapted over the last nine months, what support will be available over the coming weeks and the importance of digital, new technologies and the green economy.



Trading Standards
Trading Standards Scotland is the national team for trading standards in Scotland and is part of COSLA.

The team produces a weekly Scam Share Bulletin which outlines scams that have been reported by consumers across Scotland, including those related to the COVID-19 outbreak.

This week's bulletin includes information on the top scams uncovered in Scotland in 2020.
Summary
The Local Government workforce and partners across sectors are working hard to support our communities.
We continue to highlight this across our social media channels - retweets and follows would be greatly appreciated.
Our Twitter and Facebook channels, Khub and website will be regularly updated.
If you or your officers require any clarity from COSLA officers on policy matters, please contact the team in the usual way. If you are not sure who to direct your email to, please contact COSLA member support.
Thank you all for your efforts during this challenging time.
Other Useful Links
* The current number of COVID-19 cases and the risk level can be found on the Scottish Government website
* NHS Inform's webpage continues to be the source of up-to-date public health information
* All Scottish Government COVID-19 related guidance
* Help and support for those experiencing domestic abuse is available; and the helpline number is 0800 027 1234.